Google and the Internet training courses - IT Club Cambodia
Google education is needed for everyone, because you will use Google whatever you do in life. There are other search engines and browsers, but insignificant to the domination of Google.
What is it?
How do you use it?
To start with …. "what is the internet"
The internet comprises of millions of computers with websites each containing information. That is it.  Without assistance there is no easy way to find a particular piece of information or a particular website.
That is what Google does for you.  It knows about every website, and what they are about.
It is effectively a massive index. 
When people say "Google knows everything", is not true. If you have a question, Google will show you websites and possible answers to your question, but you have to decide if the website is relevant to you, and if you believe the answer it has.  
This section looks at 
how to search google to find an answer
how does Google help you in your search
checking the relevance of the answers (credibility of site, use of keywords)
how can you do your search better (refine search), so the answers are better
This ppt mainly uses English searching
I have noticed that in the last 2 years the number of Khmer language websites has increased significantly.
Do not be afraid to search in Khmer – if you do not get enough results you may need to switch to English.  Using Khmer should make it easier.
There are a number of examples of searching
(there is leaf mould on my vegetable plants, how do I cure it,  searching for hotels using local and global search, refining a search by using Site: or use of quotes)
The course comprises of three powerpoints
about Google
basic search
advanced search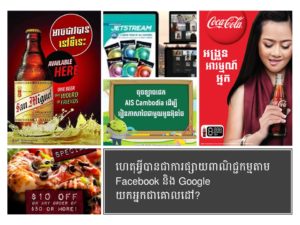 ការពន្យល់អំពីការផ្សាយពាណិជ្ជកម្ Like and Share ចូលរួមជាមួយ IT-Club ចូលរួមជាមួយ IT-Club ទទួលព្រឹត្តិប័ត្រព័ត៌មានប្រចាំខែតាមអ៊ីមែល។  និងលក្ខណៈពិសេសជាច្រើនទៀតមិនត្រូវបានផ្សព្វផ្សាយនៅលើហ្វេសប៊ុកទេ អត្ថបទបន្ទាប់រួមមាន ព័ត៌មានផ្ទាល់ខ្លួន និងឯកជន ហើយនិងរបៀបដែលអ្នកគួរផ្លាស់ប្តូរការកំណត់ផ្សេងៗរបស់អ្នក ការផ្សាយពាណិជ្ជកម្ម និងរបៀបដែលពួកគេប្រើប្រាស់ទិន្នន័យរបស់អ្នក
Read More »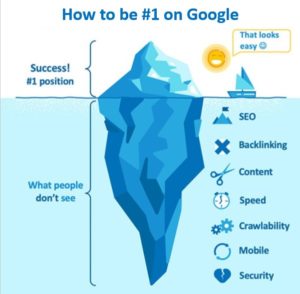 How to be #1 on Google រំកិលចុះក្រោមដើម្បីចូលរួម IT-Club Please "Like" our Page ហេតុអ្វីបានជាអ្នកចង់បានលេខ ១ នៅលើ
Read More »